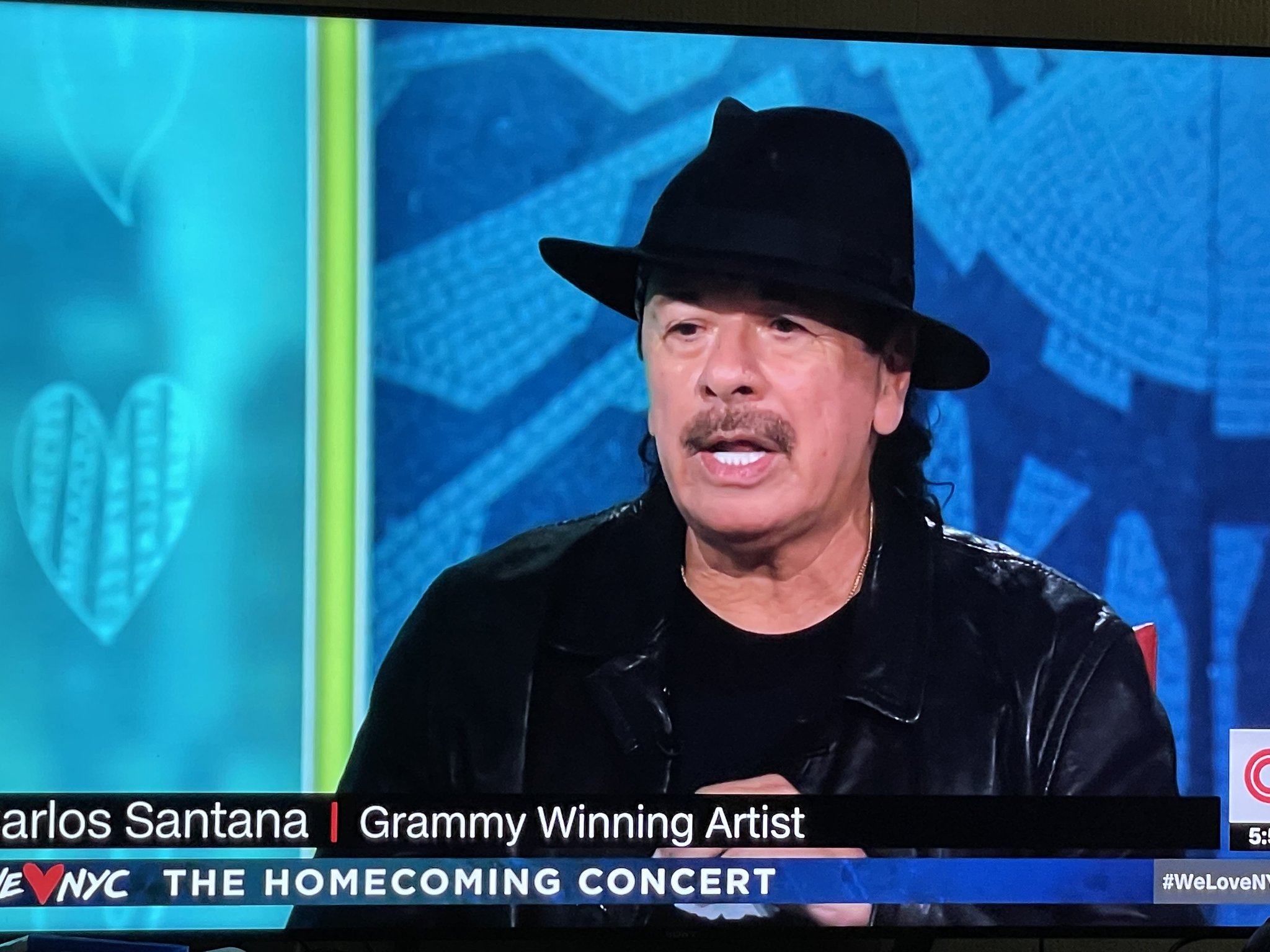 Carlos Santana speaking about why we're on the planet.

Recently, Carlos Santana was interviewed by Anderson Cooper during the "Homecoming Concert" in August, 2021. Anderson asked Carlos about performing live, coming out of the pandemic and his new album, "Miracles and Blessings."
Carlos: It's wonderful to be able to connect with people's hearts (again). The message is that we can transmogrify (transform in a surprising and magical manner) fear and darkness, we can coexist with unity and harmony, accept our own totality, accept our own light and create miracles and blessings.
People are thirsty; we're bringing living water to people with a sound resonance vibration. We are at the right time and right place to present to them another frequency, different than fear darkness and separation – which is what we've been dealing with for years.
Most people have crystallized their intentions during this period – and the questions is, "Can you prioritize why am I on this planet?" There's an opportunity for a lot more equilibrium, balance and competence.
From my point of view, time is an illusion. From where I am, I discard time and gravity. You just have to spend more time with your heart and less time up here (points to his hat).
Because that's what's happening with everybody. We've been bamboozled – we were imbued before we came out of the womb with heavenly powers which means we can create miracles and blessing. The program we've been given is for us to believe we're a wretched sinner unworthy of our own life. (Laughs) I don't think so – "Keep those beliefs to yourself, man."
I believe I am made of the same essence that God is – look it up in the Bible – we're "In god's image." God is only good – anything that's less than that… there's a lot of Godzilla energy in the Bible – with jealousy, if he doesn't like something, he would flood it.
That's not God. God is love. Just like you update your phone and your laptop – we need to update the Bible and the Constitution.
Gratitude is very powerful, when you say the word, even before you say it… We're at the place where we can program your whole molecular structure to say "Today I'm only going to only contemplate and entertain thoughts that are inspiring and elevating – anything else I'm going to say "No, that's going to put me in a misery ditch. I'll be sad, lonely, depressed – that's boring. I don't want to be boring. I want to be effulgent. (Shining forth brilliantly; radiant.)
I love to see people cry and laugh and dance at the same time – my metaphor is like when we see a wet shaggy dog shake off the water, he creates a rainbow next to the sun. That water he shakes off, we can ward off fear, we ward off lack of self-worth.
I love all the things that I've learned from people I love from John Coltrane, Mohandas Gandhi, Martin Luther King, Dolores Huerta, Harry Belafonte – I love who I'm becoming. I'm learning from those who have impeccable integrity on a very high level. It's fun to be Carlos now. What I focus on, is for the highest good for all people, impeccable integrity – if you're not with that, catch the next train, because this one's leaving."
Carlos Santana.